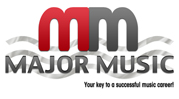 What we do
Founded over 6 years ago, Major Music has become the countries leading Artist development company.
Renowned for its professionalism and experience, Major Music is passionate about taking artists to the next level, and empowering them with the knowledge to get there.
It is evident through the growing number of successes, that Major Music is becoming a key player in the Music industry! For updates on our company, artists and more, why dont you Click Here to subscribe to our Newsletter.

Major Music, a Baby Girl Music Ltd company, believes the most important aspect in becoming a successful artist, is a combination of composing outstanding songs, and being an accomplished live performer. We can create your own style and image, help you write your own songs, introduce you to the right people and guide you through the ups and downs of the music industry.
Major Music will give you the experience and knowledge to launch your music career. Major Music offers the chance for talented singers to develop their creativity within song writing, production, vocal and performance skills, image, styling and working towards giving the artists live exposure. Together with these skills we strive to guide our artists through the high and lows of the music industry.
In our buzzing Central London location artists work with our experienced writing and production team, in our fully fitted recording studios and live performance areas.

We are currently taking bookings all through the week. please book in advance to avoid disappointment as places are very limited.

To place a booking Click here for more information or general enquiries Click here
Major Music also offer the following services:-
Dance studio/ Rehearsal room hire, prices from £20 per hour. To book the studio for hire or enquiries please contact Ilhaam 0207 490 2299